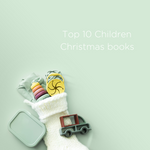 For as long as I can remember, each Christmas my mother wrapped 25 picture books and placed them under the tree. Starting on Dec. 1st, we would unwrap one each night and my mother would read it to us by candlelight. All six of us would squeeze in around her and listen with awe. We cherished each story because we only read them once a year. She would hide them away with the Christmas decorations until next Christmas.
This is the first Christmas I tried doing this with my own children--right now it's just my two-year old daughter, but it was still magical. I'm already lucky she loves reading books, so seeing her enthralled with unwrapping a new one every day this December is so fun to see. 
Last week I posted a reel about this little tradition and had a lot of positive feedback. A few of our amazing mamas who follow us asked for some recommendations on some children Christmas books. So, I'm going to share my top 10 books that I loved growing up.
As a side note, you have to remember these are books I remember from when I was older, starting around the age of 6, but some of those aren't the best for toddlers. I am starting out with a lot of small picture books for my daughter before I get to some of these. Another side note, a lot of these are religious and focus on Christ, but I've included some fun holiday ones too:
1. The Tale of Three Trees
Photo credit & Amazon price linked here. 
This is a religious, touching story about Christ and is definitely for older children to understand, but I recently found a board book.
2. You are Special by Max Lucado
Photo credit and purchase link are from Amazon.
This one isn't necessarily a Christmas book but it was included in my mom's collection and I always think of it at Christmas time.
3. The Polar Express by Chris Van Allsburg
Photo credit and purchase link are from Amazon.
This one is a classic. We all know and love it.
4. The night before Christmas Board book by Clement Moore
Linked here.
There are SO many different versions of this story but this board book has great illustrations.
5. How the Grinch Stole Christmas by Dr. Seuss
Linked here.
We've seen the movie but how many of you have read the original story by Dr Seuss? It's a fun one. 
6. The Nutcracker Ballet (1995) by Vladimir Vasilevich Vagin
Linked here.
Again, you can find so many different versions of this, but this one was published the year I was born and it's one of my favorites!
7. Christmas Oranges by Linda Bethers
Linked here.
Even if it's not this one, it's always good to share Christmas stories about children who are less fortunate. This one is about an orphan who gets an orange for Christmas and it's the most incredible gift to her. Sharing stories from the great depression is another good way to show our children how lucky they are. 
8. Christmas from Heaven: The True Story of the Berlin Candy Bomber
Linked here.  
This is a good example of sharing a story of kids less fortunate, a story from the right after world war II. A pilot decided to share some Christmas spirit by dropping chocolate to children in the war-torn town of Berlin. I saw the man from this story in a live concert share his experience and it was absolutely incredible. 
9. The Christmas Miracle of Jonathan Toomey by Susan Wojciechowski
Linked here.
I LOVE this story. It's similar to Heidi in the Alps where she softens the heart of her grandpa, but instead it's a little boy who softens the heart of a gruff woodcarver who lost his wife and child. 
10. Carl's Christmas by Alexandra Day
Linked here. 
Who doesn't like a good dog Christmas book?! This one has barely any words in it, but beautiful illustrations that your kids can us to form their own story. 
Again, a lot of these are heart-warming or religious Christmas stories, so if you're looking for toddler books, you can find some fun board books like the ABC's of Christmas or "If animals celebrated Christmas" with very simple concepts. Maybe in the future we can do another blog with toddler-specific Christmas books. 
Merry Christmas!
xoxo,
Heidi 
Co-owner at Ivory Cradle